2019-07 - NEW PRACTICE MANUAL: "ESWT IN HAND SURGERY"
Heilbronn, 22.07.2019
In July 2019 the tenth volume in the successful series "Shock wave therapy in practice" (Level10 Verlag) was published with "ESWT in hand surgery". The book, edited by Prof. Dr. Karsten Knobloch, FACS, provides a comprehensive insight into the beneficial application of extracorporeal shock wave therapy (ESWT) in hand surgery.
The book is divided into five major chapters, each containing contributions from the editor and numerous other shock wave therapy experts. Each chapter focuses on the different tissues of the hand: bones, tendons, muscles, soft tissues, and nerves. Based on current cutting-edge research and their own many years of experience, the authors convey well-founded knowledge about individual indications and their treatment with shock waves alone or in combination with other therapy options.
Editor Prof. Dr. Karsten Knobloch, Fellow of the American College of Surgeons (FACS), is a specialist in general, plastic and aesthetic surgery, hand surgery, sports medicine and emergency medicine. He is President of the German-speaking International Society for Extracorporeal Shockwave Therapy (DIGEST) and Chief Communications Officer of the International Society for Medical Shockwave Treatment (ISMST).
"ESWT in hand surgery" is available now and can be ordered at This email address is being protected from spambots. You need JavaScript enabled to view it. .
Karsten Knobloch
ESWT in hand surgery
256 pages, English
ISBN 978-3-945106-11-2
62,00 Euro
Orders under: This email address is being protected from spambots. You need JavaScript enabled to view it.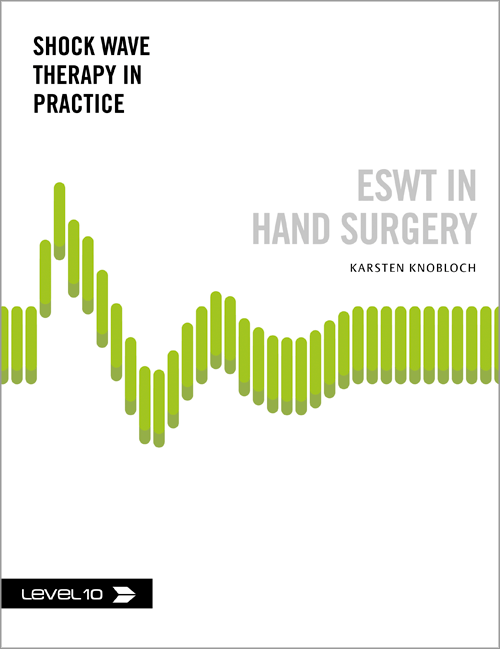 Jetzt informieren: Level-books.com