2018-07 - NEW PRACTICE MANUAL: "ESWT IN AESTEHETIC MEDICINE, BURNS AND DERMATOLOGY"
Heilbronn, 15.08.2018
In August 2018, LEVEL10 Verlag will publish "ESWT in Aesthetic Medicine, Burns & Dermatology" by Prof. Dr. med. Karsten Knobloch, the ninth volume of the successful "Shockwave Therapy in Practice" series.
The book provides a current overview of the use of extracorporeal shock wave therapy (ESWT) in reconstructive (reconstructive) surgery, burn surgery and aesthetic surgery. The collected studies and contributions of renowned international experts cover a wide range of applications. Main topics are among other things wound and scar treatment, accelerated wound healing with burns, the positive influence of ESWT with diabetic foot syndrome as well as the treatment of cellulite. Another chapter is dedicated to lymphedema.
Karsten Knobloch is a specialist in general, plastic and aesthetic surgery, hand surgery, sports medicine and rescue medicine. He is acting president of the German-speaking International Society for Extracorporeal Shockwave Therapy (DIGEST).
"ESWT in Aesthetic Medicine, Burns & Dermatology" can be ordered immediately under This email address is being protected from spambots. You need JavaScript enabled to view it.
Karsten Knobloch
ESWT in Aesthetic Medicine, Burns & Dermatology
248 pages, English
ISBN 978-3-945106-10-5
€ 59,00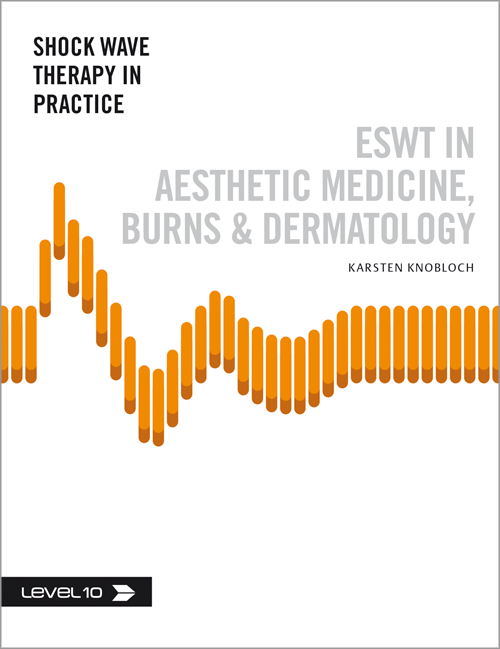 Jetzt informieren: Level-books.com